Street design plus repeat drunk driver kills pedestrian in St. Louis
Streetsblog gave national coverage to the recent death of a young St. Louis pedestrian, whose death seems to have a duel cause--a bad, drunken driver plus our usual lazy street design:
Last month, two boys were trying to cross the street in a suburb of St. Louis to reach a gas station convenience store. At the same time, Ricky Weeden was driving drunk down St. Charles Rock Road in a pickup truck.

Traye-Shon Williams, 4, and his 10-year-old brother never made it to their destination. Traye-Shon was killed instantly. His brother suffered serious injuries.
This was the 11th (!) DWI arrest for the driver, who has been charged with second degree murder--and makes a poster child for legislation proposed by MoBikeFed designed to create stronger penalties for bad drivers who injure and kill others, and to do more to keep them off the road in the future.
The second contributing factor to the crash is outlined by St. Louis area blogger Steve Patterson of Urban Review STL:
Earlier this month I visited the accident site. Well I got as close as I could.

I couldn't reach the convenience store or cross the street in my wheelchair due to a lack of sidewalks and crosswalks. The distance between signalized crossings is more than a quarter mile, as a result pedestrians regularly cross the street where it is convenient to do so.

Media reports focused solely on the driver's record. Yes, those who drink & drive are a problem, but only part of it. The other part of the problem is this area, just a short distance from the Rock Road MetroBus/MetroLink center isn't designed for use by pedestrians.
It's tragedies like that that get to the heart of what we are working for at the Missouri Bicycle and Pedestrian Federation--and the heart of our Vision for Bicycling and Walking in Missouri.
I don't know if we can eliminate all pedestrian and bicyclists fatalities in Missouri, but cutting them in half is our goal and the reason that "Improving safety for all road users" is one of our four primary objectives. That means, among other things, having appropriate penalties for drivers who repeatedly show that they are bad, dangerous drivers.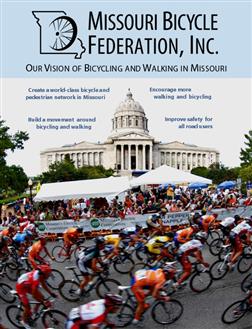 Another of our four primary objectives is "Building a world class bicycle and pedestrian network."
A street in the middle of a densely populated urban area where people can't safely access the local convenience store is definitely NOT world class. And street in a populated area without sidewalks and crosswalks is not world class. A street where wheelchair users do not have safe access is not world class.
In Missouri, we need to fix those things. We've turned a corner now and we're starting to fix them--after decades of complete neglect.
But we need to accelerate our efforts.
That's our vision and that's what we're working on every day.
Share this: