Sunset Hills Mayor charged with felony assault for striking cyclist Randy Murdick, fleeing scene
Today Sunset Hills Mayor Mark Furrer was charged with assault and property damage--the result of a July 29th incident in Sunset Hills where Furrer first threatened Murdick, then struck him with his car, and then fled the scene.
Furrer was charged with second-degree assault and first-degree property damage. Second degree assault is a Class C felony in Missouri and first-degree property damage is a Class D felony. If convicted, penalties ranges from fines to 7 years imprisonment for a Class C felony and 4 years imprisonment for a Class D felony.
The fact the Furrer was charged with felonies is a positive sign that the St Louis County prosecutor's office is taking this case seriously. We need to keep the pressure on the Prosecutor's office to ensure that these charges are prosecuted thoroughly and that an appropriate sentence is sought.
As we reported recently, Mayor Furrer has a long history of both threatening behavior and dangerous driving. Drivers like Furrer who deliberately injure need to face serious consequences.
The St. Louis Post-Dispatch has more details:
In 911 recordings released after the July 29 incident, a witness shouts at a fleeing car to stop after the incident.

"Pull over, pull over! You just hit that guy and took off!" a caller can be heard saying on a 911 recording released to the Post-Dispatch on Aug. 4 through an open records request.

Fenton bicyclist Randy Murdick, 47, said that that Furrer was driving his red Mercedes convertible and cursed at Murdick, then intentionally hit the cyclist with his car in the 12000 block of Old Gravois Road.

Murdick previously told the Post-Dispatch that he was nearing the end of a 40-mile ride when he was confronted by the mayor, who told him to get off "my roads." Murdick says he suffered bruises, a torn Achilles tendon and that his $12,000 bicycle was heavily damaged. . . .

Murdick's lawyer, Michelle Funkenbusch, said Wednesday that the charges "substantiate everything that we've been saying. We're satisfied, finally, that the prosecuting attorney's office has looked at this and has seen it for the crime that it was."

"This was no accident," Funkenbusch said. "This was no doubt a crime by an elected official."

Funkenbusch said she and Murdick are glad the prosecutor's office "has made a statement that they are going to protect cyclists on the roads." . . .

She said she is working with Sunset Hills and St. Louis city officials to make the cities more bike-friendly by drafting ordinances requiring a 3-foot buffer zone between bicyclists and passing vehicles. She mentioned the June hit-and-run death of cyclist Rick Beard, 54, of Clayton, killed by a car at Sarah Street toward Cook Avenue. Police say they arrested a suspect in the case but that prosecutors declined charges for lack of evidence.

The mayor has denied Murdick's allegations and said Murdick whipped around a corner without heeding a stop sign and cursed when the mayor told him to obey traffic laws. Furrer said he did not swerve into Murdick but saw him tumble over while looking in his rearview mirror. Furrer also said he continued west down the road but turned around as soon as possible.

In the 911 audio, a caller tells a dispatcher, "I would like to report a hit-and-run over here on Old Gravois Road, right here by Delta Dental. … The guy hit a bicyclist, drove off and then turned around and came back." . . .

St. Louis County police took over the investigation at the request of Sunset Hills Police Chief William LaGrand. The chief said he asked for St. Louis County's help to avoid the perception of a conflict of interest.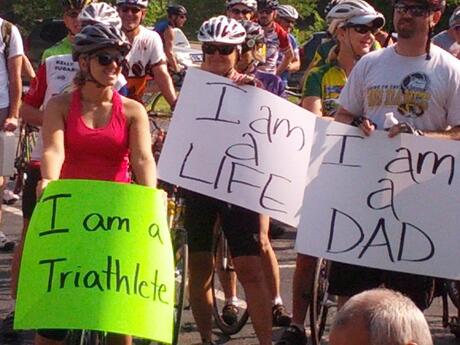 Photo gallery from the August 2nd ride in support of Randy
Sign the petition in support of Randy
Creating safer roads for all road users, making our state transportation safer and more accessible for people who walk and bicycle, and seeking justice for pedestrians and cyclists who are injured and killed on our roadways are all important goals of MoBikeFed's Vision for Bicycing and Walking in Missouri.
Your membership and generous financial support helps make our Vision become reality.
Share this: