Fair weather
MoBikeFed President Rachel Ruhlen is a community blogger for Gatehouse Media. This article appeared Apr 4, 2015.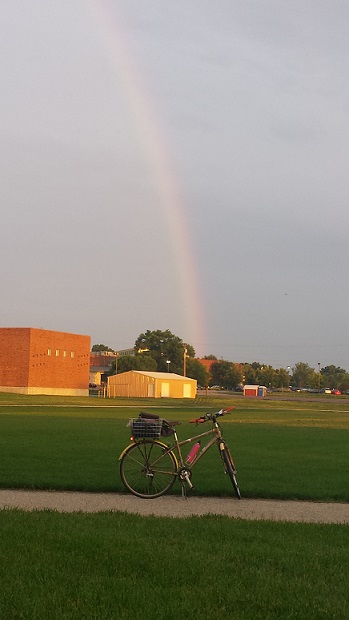 It's impossible to be a fair weather bicyclist in Missouri, because Missouri, as far as I can tell, doesn't have fair weather.
It is true that sometimes the temperatures can be quite mild. Generally this brief mild time is accompanied by severe winds bringing in the cold front or the warm front and happens as the temperature skyrockets or plummets from one extreme to another.
I was amazed this spring as the sun shone merrily on warm days, and nothing but warm, mild days forecasted as far as the forecast would go. The wind wasn't terribly strong. Furthermore, this coincided with my finals week (neither of my classes had final exams) and my spring break! I gleefully penciled in daily, long bike rides.
But then I sneezed. I wheezed. My eyes watered. "Blast you, juniper!" I cried out, melodramatically. "Blast you and your tiny pollen sperm daggers stabbing my eyes!" I continued metaphorically. There would be no more bike rides until the juniper orgy ended.
I bike for transportation in all weather. I bike for recreation in a lot of weather but not in all weather. Extreme cold, high wind, cold rain, extreme heat, and pollen keep me from just-for-fun bike rides!
Visiting Phoenix a few years ago, I biked 7 hours on the canal paths when it reached 107 °F. That sounds dangerous, but I didn't have as many problems on that ride as I had on a much shorter ride on a humid April day in Missouri when I experienced an electrolyte deficiency. The transitions from one season to the next are often more difficult than the extremes. At the beginning of winter, I wear my balaclava when it drops below 40 °F. By the end of winter, 35 °F is too warm for my balaclava.
Last winter my husband walked to the store with me during a cold snap. He complained his face hurt from the wind. Because I'd been biking in the cold, I hadn't noticed the wind on my face. He needed an extra layer on his face because he wasn't used to being out in this weather.
I'm more comfortable when I push the elements. If I try to maximize my comfort by staying indoors, I am trapped indoors. If I push myself outside when it's nasty, my definition of "nice weather" expands dramatically.
Missouri does have nice weather-- briefly, and comparatively!
Read more of MoBikeFed President Rachel Ruhlen's articles on the President Blog page.
Share this:
Tags: