MoBikeFed Events - Join us for rides, runs, races, and more in 2016!
The Missouri Bicycle & Pedestrian Federation helps promote bicycling, walking, and trails and raises funds for our mission through an annual series of events around Missouri. Please add them to your calendar and join us!
Apr 11, 2016 (Monday) - Capitol Day & Legislator's Ride
Plan to join us for the Legislators Bicycle Ride, legislator visits, and more. Our most effective advocacy of the year.

May 30, 2016 (Monday) - Tour of Kansas City Gran Fondo
What is a Gran Fondo? It's just a step up above your ordinary ride: A challenging ride that combines the best elements of epic recreational rides and scenic touring rides with the color and flash of a great road race. It's not a race, but it is chip timed so you can work for your own personal best. The ride is open to everyone, from casual riders to serious races, with routes of 20, 50, 60, 75, and 100 miles. Proceeds benefit our Foundation.

Jun 4-5, 2016 (Sat-Sun) - Tour of Kansas City races
Where Passion Meets Pageantry: See the Midwest's best in two days of the fastest, hardest bicycle racing on historic courses on Cliff Drive and the Kansas City crossroads. 5K run, Beer Fest, and lots of races to watch make this a great weekend event for everyone. Proceeds benefit our Foundation.

Jun 18, 2016 (Saturday) - Queen City Century bicycle ride (Springfield)
The Queen City Century is b-a-c-k in 2016 with routes of up to 100 miles on the scenic, hilly roads surrounding Missouri's Queen City--Springfield. Produced in cooperation with the SpringBike Bicycle Club, proceeds from this event support MoBikeFed's statewide advocacy work.

Aug 5, 2016 (Friday) - Missouri Walk/Bike Mini-Summit. 10:00 am - 4:00 pm. Mediacom Ice Park, Springfield, MO.
This event is a gathering of staff and key leaders of Missouri bicycle & pedestrian advocacy groups and those who work as bicycle, pedestrian, or trails professionals in Missouri, organized by the (NEW!) Missouri State Chapter of the Association of Pedestrian and Bicycle Professionals (APBP). We will share information, knowledge, and successes. Keynote speech by Roberta Broeker, MoDOT CFO. (Online registration coming soon.)

Aug 27, 2016 (Saturday) - BikeMO (Central Missouri)
Our annual ride in mid-Missouri. Beautiful, rolling, rural roads of central Missouri (30-90 mile on-road routes) or go hardcore off-road with the Katy Trail Gravel Grinder option (10-60 mile off-road routes).

Oct 2 (Sunday) - Tour de Wildwood
The City of Wildwood's annual ride features amazing routes and autumn scenery in St. Louis County. Round out your cycling season with this winding, hilly route that takes you through Rockwoods Reservation, Babler State Park, and the beautiful valleys of Wildwood. Proceeds benefit our Foundation.
All the events above support our statewide mission to work for more, better, safer bicycling, walking, and trails across Missouri. We hope you can join us!
Working to create a world class transportation system for people who bicycle and walking in Missouri, improving safety, creating a movement in support of bicycling, walking, and trails, and encouraging more Missourians to walk and bicycle more often are the key goals of MoBikeFed's Vision for Bicycling and Walking in Missouri.
Your participation in these events, and your ongoing membership and generous financial support help us turn our Vision into reality!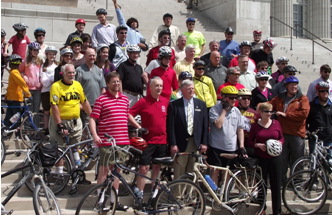 Share this: