Missouri's Rock Island Trail
The statewide Rock Island Trail is a rail-to-trail project potentially 217 miles in length, running from Kansas City to Washington, Missouri.
The Rock Island will link with the Katy Trail in two places--Windsor and Washington--making a statewide trail "super-loop" likely to be over 500 miles long when complete. The Katy/Rock Island super-loop trail potentially stretches from state line to state and line, ties in with hundreds of miles of connected trail along its length, and links to trail systems in five states. Because of the two trails' scope and interconnections, they create an "internationally significant experience" according to the Rails-to-Trails Conservancy, the global leader in rail trails.
This page has resources and information to help with our campaign to support the Rock Island Trail and inform Missourians and decision-makers about the trail and its importance.
The page has these resources:
What are the benefits of rail-trail conversions like the Rock Island Trail?
The eastern and western ends of the Rock Island Trail reach Missouri's two largest metropolitan areas. In between is over 100 miles of the most remote, beautiful, and little-known territory in the state.
The Rock Island Trail and the greater Rock Island/Katy Trail system present an unprecedented opportunity for small-town and rural Missouri to compete on the international stage as a tourism and recreation draw. Communities along the trail who work to bootstrap themselves to become viable Trail Towns have the potential to reach local, statewide, regional, national, and international tourism markets and to provide significant, sustainable economic growth that is compatible with and complementary to the area's existing rural lifestyle.
In addition, trails provide significant health and recreational benefits to local residents, helping to create an active, vibrant community that attracts and retains local businesses, economic opportunities, and residents. Trails have very significant health benefits for rural communities---benefits that are very much needed in rural Missouri--improving quality of life and helping to create a more active, economical, and employable local workforce.
Bicycling, walking, and trails are among the most popular recreational options chosen by Missourians, and their popularity is increasing year by year, and so communities that can develop those options are at a competetive advantage, while those lacking good options are at a disadvantage.
The Rails-to-Trails Conservancy has compiled information and research on the many benefits of trails to their communities in the areas of health, transportation, livability, conservation, the environment, economy, revitalization, historic preservation, and community identity. A searchable resource library links to many studies and research into the many benefits of trails.
Economic impact of comparable rail-trail conversions:
What does the future Rock Island Trail network look like?
What will the entire Katy Trail-Rock Island Trail statewide trail loop look like? See this zoomable map of the planned trail system.
The Rock Island Trail consists of these segments--each with its own history, owners, potential owners, and progress:
Segment 1: ~24.8 miles - Rock Island, Pleasant Hill to KC (orange segment on the map to the right), currently owned by Jackson County and KCATA and in active development as a trail. History & timeline:
Segment 1A: ~3 miles - Greenwood Gap (between the orange and blue segments on the map above)- Segment 1 between Pleasant Hill and Kansas City is 24.8 miles in total, per this STB docket. But Jackson County has acquiring only 17.7 miles of the corridor from Union Pacific. The remainder is still active railroad line. The leaves a gap of several miles to be bridged. Pleasant Hill's MOPac Trail covers part of that distance but a few miles NW of Pleasant Hill remain to be resolved. Officials on both ends of the gap are highly motivated and actively working to find a solution. Pleasant Hill, Greenwood, Lee's Summit and their partners are working to finish this trail connection with the goal of completing it in 2018, simultaneously with the completion of the Jackson County trail segment.

Segment 2: 47.6 miles - Rock Island, Pleasant Hill to Windsor (blue segment on the map above)- result of the Taum Sauk settlement with Ameren (State Parks). This segment was railbanked early in 2014 and salvage work/trail construction is currently underway. There is another small segment of trail about 0.6 miles, through and near Pleasant Hill, that was railbanked as part of this agreement.
As of 10 December 2016, this section is complete and open to the public.
History & timeline:

In the late 1990s and early 2000s, this segment of the Rock Island Line was identified as the most promising way to connect the Katy Trail to the Kansas City area and complete the vision of a statewide trail connecting Missouri's two major metro areas and many communities in between.
In 2007, after a massive outpouring of public support for the trail connection, it was included in the state's settlement with Ameren over the Taum Sauk disaster.
After Governor Jay Nixon took office in 2008, the state began negotiating with Ameren to allow railbanking of the corridor--rather than the original "rails with trails" solution allowed by the 2007 agreement.
2012-2014 legal work to finalize the railbanking agreement for the 47.6 mile segment was completed and signed by Missouri State Parks and Ameren.
2014, Ameren and Missouri State Parks initiated discussions about additionally railbanking the 143.7 mile section of the Rock Island corridor between Windsor and Beaufort (Segment 3 below).
2014-2016 trail construction on the 47.6 mile corridor continued.
December 10th, 2016: Governor Jay Nixon cut the ribbon on the 47.6 mile segment of the Rock Island Trail connecting Pleasant Hill to Windsor. The trail is ready for use and open to the public, though State Parks will continue to improve amenities such as trailheads.


Segment 3: 143.7 miles - Rock Island, Windsor to Beaufort (near Washington) (red segment on the map above). This is the segment the STB approved railbanking in late 2014. As of Summer 2016, salvage work is proceeding on this section, with Union Pacific and Missouri State Parks in agreement to complete the railbanking agreement as soon as salvage work is complete. History & timeline:

In Fall 2014, after a massive outpouring of public support for the statewide Rock Island Trail, Ameren and Missouri State Parks signed an agreement to work towards railbanking the 143.7-mile section and making it part of Rock Island Trail State Park.
In 2015, the Surface Transportation Board gave preliminary approval for the railbanking agreement and allowed salvage work and other preliminary work to begin.
In 2016, salvage work on the 143.7-mile section began, with Ameren and Missouri State Parks agreeing to finalize the railbanking agreement as soon as salvage work is complete. Salvage work may be complete by 2017.
Fall 2016, Belle received a Recreational Trails grant to build a one-mile segment of trail in the city of Belle. Construction should move forward early in 2017, making this the first completed mile of Segment 3.
Spring 2017, Ameren announced that salvage work on this section is on track for completion in late 2017, opening the way for transfer of the corridor to Missouri State Parks soon thereafter.
February 2018, Ameren and Missouri State Parks announced that they have received a 1 year extension of the time to negotiate a railbanking agreement, until February 2019. Ameren and its contractors will conclude salvage work on the corridor in early 2018, while Missouri State Parks plans to conduct an evaluation survey to determine whether or not the state will accept the corridor.

State Parks will create a plan for the state to accept the corridor and manage it, while relying primarily on outside funding--grants, local partnerships, public/private partnerships--to move forward with development and construction of the trail and amenities like trailheads.

If State Parks is able to create a plan along these lines that they feel is realistic and feasible, they will make a decision to accept the corridor into the State Parks system. Such a decision will need to be made by late 2018 in order to meet the February 2019 deadline to complete the railbanking agreement with Ameren.


Segment 4: ~30-50 miles - Work to plan the final connection between the Rock Island at Beaufort, Washington City, and the Katy Trail is underway and under intense discussion by Missouri State Parks, local officials in the Washington area, and Ameren. They assure us that a good solution will be found. This segment will add 30-50 miles, more or less, to the total Katy/Rock Island trail loop mileage depending on details.


Segments 5+: Connections between the Katy & Rock Island Trails are possible between Warsaw and Sedalia, at Jefferson City, at Hermann, and in other places. In addition, connections to the ends of the trail system are possible on both ends and at some points in between. Stay tuned!
Total Trail and Overall System Mileage
TOTAL Rock Island Trail mileage Kansas City to Beaufort, is 216.7 miles
TOTAL Katy Trail milage is 240 miles. By the RR mile markers, the Katy is 237.7 miles, but the trail diverges from the RR corridor in a few place. Missouri State Parks confirms that Total Katy Trail mileage is currently 240.
TOTAL Katy Trail/Rock Island system will be 457 miles plus an additional ~30-50 miles for the Beaufort-Dutzow connection near Washington. This almost certainly puts total system mileage at over 500 miles once all connections are complete.
When the new Rock Island Trail segments are complete, that will rocket Missouri to the forefront of states with long, interconnected trail systems. With the addition of major planned trail systems in the St Louis, Kansas City, Columbia, Springfield, and other areas of the state, the state's trail system starts to look formidable indeed.
How long will it take before we see a complete, finished trail on the Rock Island line?
The letter Ameren issued in late 2014 and the STB's decision in February, 2015, are simply the first steps in the work to railbank the line. There are many more steps and hurdles, many of them complex and with the potential to throw the project off course.
Before the Rock Island corridor can become a trail, three things must happen:
STEP #1: Railbanking. We are now partway through this complex legal process--and over the major and most important hurdle. The major hurdle remaining is finalizing and receiving approval for the interim trail use agreement. We will need to be vigilant to ensure that the railbanking effort, which is likely to take 1-2 years, stays on track.
STEP #2: Salvage. The rails and equipment will need to be salvaged before trail construction can begin. As of December 2016, Salvage is completed on the 47.6-mile Segment 1, and is ongoing on the 143.7-mile Segment 3. Experience says salvage work will take 12-18 months, minimum--and perhaps more if difficulties are encountered.
We understand that for Segment 3, Ameren has agreed to remove all of the rails (which are valuable) and also has generously agreed to remove the ties (which are not), as part of the salvage process. That should leave a majority of the line cleaned up and ready to be rather easily converted to trail use.
STEP #3: Trail building. Finally, there is the trail construction itself. Keep in mind that it took a decade before the majority of the Katy Trail was usable, and Missouri State Parks continues to add sections after more than two decades of use.
We should see selected sections of the trail come online soon after salvage work is complete--optimistically, within 1-3 years. It may be a decade or more before we see a complete trail running from Windsor to Beaufort--and then linking up with the Katy Trail near Washington.
The Rock Island Corridor has some potentially difficult spots--a couple of major river bridges, including a very long bridge over the Gasconade River, and a couple of tunnels. These will be major scenic attractions of the trail when complete--but may require time and significant funding to fully integrate into the trail.
What we are likely to see first is small sections of the trail near populated areas completed, then gradually connected across the state--much as we saw with the development of the Katy Trail.
We may see long sections of connected trail develop, then just a couple of trouble spots holding the trail from completion, and finally--perhaps after decades--a final connection all along the line and through to the Katy Trail near Washington.
In addition, a few troublesome connections must be worked out--for instance, the last few miles linking the trail from Beaufort to Washington. We encourage all parties involved to work together to find the best possible solution for these difficult spots.
For over 20 years, the Missouri Bicycle & Pedestrian Federation has advocated for a seamless, statewide trail system, anchored by the Katy Trail, reaching from state line to state line and connecting to the hearts of the two largest metro areas in the state as well as many communities in between.
Over the years, the most difficult gap in this vision has been to connect the Katy Trail to the Kansas City metro area. With the 17.7 Jackson County portion of the Rock Island Trail moving forward, and the 47-mile Pleasant Hill to Windsor section of the Rock Island State Park set to open December 2016 the biggest--and hardest--gap will be filled.
What are the remaining gaps in the system that need our attention?
The Greenwood Gap: About 3 miles in length, between the end of the Jackson County Rock Island corridor and the 47-mile initial section of Rock Island Trail State Park, the Greenwood Gap currently stands as the biggest single gap in our statewide trail vision. The Cities of Greenwood, Lee's Summit, and Pleasant Hill are all working to create solutions to overcome this gap.
Sedalia: The largest gap in the current Katy Trail is in Sedalia, where trail users must use city streets for extended sections. In 2016, Sedalia City and State of Missouri have funded a plan to close this gap--we should see construction in 2017.
Pleasant Hill: A very short section of the Rock Island Trail will run on Hwy 58 to bypass an awkward railroad crossing.
Beaufort - Washington - Katy Trail: The section of the Rock Island Line that Ameren is railbanking ends at Beaufort, several miles from Washington. Missouri State Parks, Ameren, and Washington City have all indicated to us that they are working hard to create a seamless trail connection from Beaufort to Washington. Simultaneously, work on the new Missouri River Bridge at Washington has begun. The new bridge will include an excellent bike/ped path and work is underway to connect that path seamless north to the Katy Trail.
Kansas City: Plans to create a seamless trail connection from the end of the Rock Island corridor near the Truman Sports Complex to the heart of KC at Union Station are underway. Kansas City's existing Bike KC routes do intersect the Rock Island corridor at several points, creating on-road bicycle connections to most parts of the cities and the Trail.
St. Louis: St. Louis, where work to create a seamless trail connection from the Katy to downtown St. Louis and various other communities in the region is underway thanks to ongoing support from Great Rivers Greenway. As in Kansas City, various routes of the Gateway Bike Plan and various existing regional trails intersect the Katy Trail, creating connectivity between various parts of the metro area and the Katy.
Rock Island Trail Resources
Key agencies and organizations involved in developing the Rock Island Trail:
Rock Island Trail News and Updates
Rock Island Trail Commemorative Merchandise
It's not every day that we start a new 217-mile trail across Missouri. It's time to celebrate!
We've created a line of Rock Island Trail commemorative merchandise--and every purchase helps support MoBikeFed's work to support creation of the statewide Rock Island Trail.
Take a look, or click here to visit the store--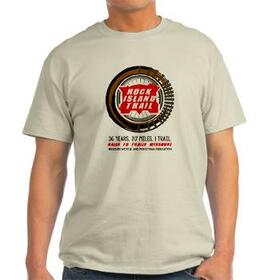 Rock Island Corridor - In February, 2015, Ameren received STB approval to railbank the sections 71.6-215.325 and 262.906-263.5. Section 215.325-262.906 (Windsor-Pleasant Hill) is already railbanked and under construction as a trail connecting the Katy Trail to Pleasant Hill. Click the image to view the full-sized version.
One of the top goals of MoBikeFed's Vision for Bicycling and Walking in Missouri is building a world-class bicycle and pedestrian transportation system in Missouri. The addition of the Rock Island Trail to Missouri's statewide trail system is the biggest single advance we have seen in Missouri in over 20 years.
Your membership and generous financial contributions help turn our Vision into reality--building the statewide public support for bicycling, walking, and trails that make major advances like the Rock Island Trail possible.
Share this: