Jerry Seinfeld walks or bikes to work daily--and recommends it as "the coolest thing"
Comedian Jerry Seinfeld recent appeared on Reddit's "Ask Me Anything".
In response to a question, Seinfeld, who has a $15 million car collection and is currently producing a web video series entitled Comedians in Cars Getting Coffee, gave a strong recommendation for walking and biking to work:
If you can walk to work or take your bike on a daily basis, I think that's just about the coolest thing that there is. Every morning I listen to the traffic on the radio, and they talk about how they are jammed and I just laugh. I love traffic. I love traffic reports because I'm not in any of them.
Here is the entire exchange:
Bonus: The bicycles shown in the background of the Seinfeld sitcom have an interesting backstory. Michael Richards (Kramer), an avid cyclist, suggested placing the green bicycle on the set in place of a bookcase: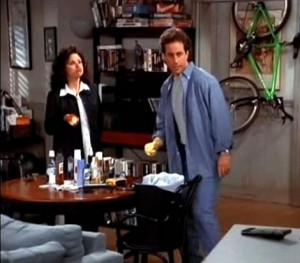 And . . . Newman's Bicycle Verdict:
Image credit: Seinfeld bicycling, starfeine.com