Rock Island Trail "Rock the Trail" ribbon-cutting June 1st, 10am - Jackson County opens Phase 1 of connector to Rock Island/Katy Trail State Park
In 2016, Jackson County and the KCATA announced a deal to acquire 17.7 miles of the Rock Island Corridor. Now, three years later, they are ready to cut the ribbon on the first 6 miles of the completed trail, through portions of Lee's Summit and Kansas City--and they are inviting everyone to join them:
Jackson County will celebrate the official opening of Phase 1 of the Rock Island Trail on #NationalTrailsDay, Saturday, June 1 . Please join us for the "Rock The Trail" Ribbon Cutting ceremony at 10 am.
Location is 12600 E. 98th Street, Kansas City, Missouri, just off of Bannister Road and near the trail's Vale Tunnel, which passes under Bannister.
The Facebook Event Page for Rock the Trail is here.
The Lee's Summit Tribune adds more details:
Join Frank White, Jr., Jackson County Executive; Theresa Galvin, Jackson County Legislative Chair; Tony Miller, Jackson County Legislator 3rd District At-Large; and Robbie Makinen, Kansas City Area Transportation Authority CEO

The first 6.4 miles of the trail stretches from Jefferson Street, west of MO-291 in Lee's Summit, to Brickyard Road, south of Blue Parkway in Kansas City.

In addition to a new surface for walking and biking, the construction project included the rehabilitation and preservation of existing bridges at 3rd Street, Chipman Road, the Little Blue River and historic Vale Tunnel.
This completes about half of the Jackson County portion of the Rock Island Trail. Phase 2--which the Rock Island Authority has already begun preliminary work on--extends northwest about 7 more miles towards Raytown and the Truman Sports Complex.
Bicycling to the Rock Island Trail from anywhere in the KC metro--or St Joseph
However, you can already make good bicycling connections to the north end of Rock Island Trail Phase 1 from nearly every part of the Kansas City area--and even points as far north as St Joseph--using MoBikeFed's low-stress Rock Island bicycle connector maps & routes. These suggested routes connect trails and routes created by a plethora of communities and agencies across west-central Missouri.
Bicycling across the Greenwood Gap to get to the State Parks Katy/Rock Island system
For now there is a gap between the Jackson County Rock Island Trail and Missouri State Parks' portion of the Rock Island Trail, which connects to the Katy Trail--the so-called "Greenwood Gap."
Again, we have provided a low-stress, low traffic suggested route of about 10 miles to connect this new section of the Rock Island Trail with the Katy/Rock Island cross-state system, which now has around 369 miles of contiguous, connected trail.
Connecting Missouri's major metro areas--and many communities in between
From the Rock Island Trail, you can bicycle via a seamless trail connection to Clinton, Jefferson City, Columbia, St. Charles, and many points in between, using the Katy Trail/Rock Island Trail State Park system plus connected local trails totalling 369 miles.
But don't forget that--with the new Butterfield Stage Connection--you can also ride a beautiful, low-traffic, mostly off-road route all the way from Kansas City to Warsaw, Bolivar, or Springfield.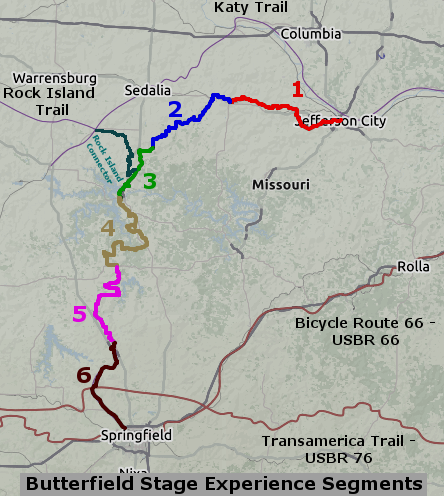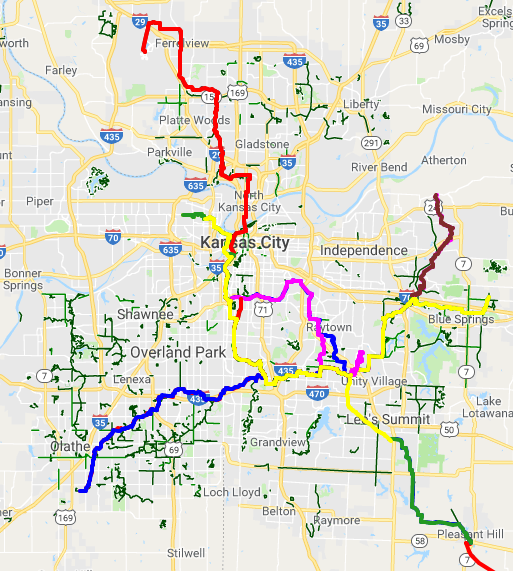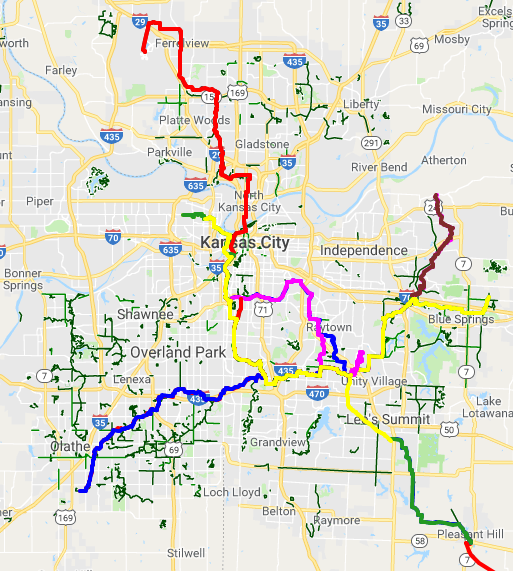 Working to support and create seamless, world-class bicycle and pedestrian connections across Missouri support several of the major goals of MoBikeFed's Vision for Bicycling and Walking in Missouri.
Your ongoing membership and generous financial support helps turn our Vision into reality!