2019 Missouri Active Transportation Summit
DateTime:
08/09/2019 -

9:00am

-

5:00pm
Bicycling, walking, and trails mean business in Missouri
Friday, August 9th, 2019, 9:00am-5:00pm
Columbia, Missouri
Presented by
The Association of Bicycle & Pedestrian Professionals, Missouri Chapter
Missouri Bicycle & Pedestrian Federation
Missouri Livable Streets
Missouri Department of Health and Senior Services
City of Columbia, Missouri
2019 Active Transportation Summit - After-Summit information
The 2019 Summit is over!
Mark your calendars for next year: Friday, August 14th, 2020 in Jefferson City
Post-Summit article with links & information from sessions & presentations
2019 Summit powerpoint and other presentation files from Summit sessions
From last year: 2018 Summit powerpoint and other presentation files
Online summary of Summit Sessions
The full 2019 Summit Program (final, PDF format) with details about each speaker and session
2019 Summit Information
It's an absolutely stellar lineup of speakers and sessions this year. Don't miss it!
A Professional Development Certificate will be available to Summit participants at registration, with up to 6 hours of professional development time available at the Summit.

Keynote Speakers:
Michael Wagler, Main Street Iowa
Activating Community Revitalization with the Main Street Approach
Mike Sutherland, Deputy Director,
Missouri State Parks
Missouri State Parks & Trails: Katy, Rock Island, and Beyond
14 sessions and workshops featuring local community programs and progress from around the Midwest - the largest cities to modest suburbs to small rural communities and everything in between - including:

Developing a Complete Transportation System—Modot's Bike/ped Program: Where Now?—Big Results on a Small Budget—Active Transportation and the Experience Economy—Local Action, Local Results—Rise of the New Mobility—Social Justice Impact of Active Transportation —The Dirt Path to Oz–—Grant Funding & Partnerships—Bicycle Accessibility for All People and All Ages—Columbia Vision Zero—and more . . .
About the Fourth Annual Missouri Active Transportation Summit
We invite you to join us for the 2019 Missouri Active Transportation Summit, where we will be sharing ideas for making our communities more active, vibrant, healthy, and economically sustainable through bicycling, walking, and trails.
Sessions from all across Missouri and adjoining states--from the largest cities to the suburbs to the smallest rural communities: Bike share, rural county trails plans, regional and local pedestrian plans, our statewide U.S. bicycle route connections, small towns and large cities integrating bicycling

Walk and bike tours of Columbia

Meet and mingle with other Missouri bicycle & pedestrian professionals and advocacy staff from around Missouri

The annual meeting of the Missouri Chapter of the Association of Pedestrian and Bicycle Professionals.

Make it a weekend--Columbia is one of Missouri and America's most vibrant bicycle, pedestrian, and trails cities with plenty of recreation and entertainment options.

Columbia City Councilman and PedNet Co-Founder Ian Thomas is leading a bike ride to the Summit. If you're driving in from across the state, just bring your bike, park in the very convenient, easy-to-access location with ample FREE parking at the Forum/MKT Trailhead, and bike on down to the Summit with Ian. Departs 8:15am sharp. Directions/map here.
Schedule and Summit details
Bring your bicycle and/or walking shoes
Remember that one of the highlights of the Summit your choice of walking or biking tour of Columbia. Remember to bring your bicycle and/or walking shoes!
Summit organizers
The Summit is organized by the Missouri Chapter of the Association of Bicycle and Pedestrian Professionals, Missouri Livable Streets, the City of Columbia, the Missouri Bicycle and Pedestrian Federation in cooperation with pedestrian, bicycle, and trails agencies, businesses, advocacy groups, and staff from across Missouri.

Come on out and hear about what is going on for walking and biking in communities around Missouri.
2019 Summit themes & topics
Main Summit topics and themes will include:
Complete Streets & Liveable Streets in Missouri: Building support for, passing, and implementing your Complete Streets policy
Tourism and the economic impact of bicycling, walking, and trails: What is the economic importance of bicycling, walking, and trails to your community, and what can you do to maximize the economic impact to your community, to your local business community, and to Missouri? With the Missouri Bicentennial coming up, how can we use that opportunity to boost trails and active outdoor tourism across the state?
Implementing bicycle, pedestrian, and trails plans and projects in communities from the largest to the smallest, how to find the funding you need, and how to make real progress on a limited budget
Health and Safety impacts of bicycling, walking, and trails
Making bicycling, walking, and trails succeed in rural, suburban, and urban settings, and small, medium, and large communities across Missouri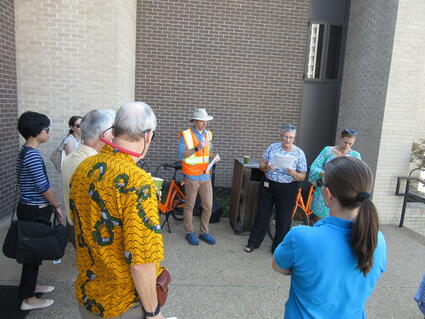 Time, Location, Transportation, Parking
2019 Missouri Active Transportation Summit, August 9th, 2019, 9:00am-5:00pm.
Location:
Columbia City Hall
701 E Broadway
Columbia, MO 65205
Please enter by the SE (main) entrance, as shown on the map below
Registration/Check-in Desk opens at 8am, Columbia City Hall.
Transportation and Parking:
You can travel to Columbia via Greyhound or MO-X. You can take Amtrak to Jefferson City and bike to Columbia.
Within Columbia, you can travel by foot, bicycle, or GO COMO public transit. Downtown Columbia has a good rundown of the options.
Best parking location: 5th & Walnut Parking Garage. Note that the nearby Plaza Parking Garage is closed for construction.
Note parking fees at all downtown locations--please plan to carpool or bike, walk, or use local transit to get downtown if you can.
Summit Supporters
Sponsor the Summit
You or your organization or business could sponsor the 2019 Missouri Active Transportation Summit! Reach an audience of professionals across Missouri at any level that works for you and your business.
Sponsor levels and benefits are in our sponsorship packet--click to download (PDF).
Register early and save:

Super Early Bird Registration rate thru midnight July 9th
Early Bird rate thru midnith July 31st
Regular rate thru August 9th or until all seats filled.
Presented by: The Association of Bicycle & Pedestrian Professionals, Missouri Chapter - Missouri Bicycle & Pedestrian Federation - Missouri Livable Streets - Missouri Department of Health & Senior Services - City of Columbia, Missouri