The Butterfield Stage Experience - Butterfield History
The Butterfield Stage Experience - Butterfield Stage History
The new Butterfield Stage Experience bicycle route is a historic experience along back country roads that leaves you with smiles for miles across Missouri. A mostly gravel/bikepacking route across some of the most beautiful, peaceful, and historic places in rural Missouri, you'll re-experience an 1858 Butterfield Stage trip across Missouri.
Other pages about the Butterfield Stage Experience route and possibilities:
Elsewhere online:
The Butterfield Stage Experience - Butterfield Stage History
The Butterfield Stage Overland Mail operated from 1858 to 1861. John Butterfield signed a contract with the U.S. government to provide twice-a-week mail service from St. Louis to San Francisco.
In 1858, he personally carried the first bag of mail, boarding the Pacific Railroad in St. Louis. The railroad generally followed the alignment of the Amtrak route that you can still ride today (and still use to connect to points on the Butterfield Experience route): St. Louis, Kirkwood, Washington, Hermann, Jefferson City, California, and Tipton.
At Tipton, the railroad ended and the stagecoach journey began.
Butterfield had pieced together a stagecoach route from Tipton to Los Angeles and San Francisco, California, based on existing roads and routes.
Other routes - Native American trails, military roads, wire roads, and historic highways combine to make the Butterfield route
In Missouri, the route used part of the old Military Road (later Wire Road) from Versailles to Warsaw, Bolivar, and Springfield and finally Fort Smith, Arkansas.
The old Military Road (and later, Wire Road and Telegraph Road) between Jefferson Barracks and Springfield roughly follows today's I-44. You can bicycle much of this history route using Bicycle Route 66--Route 66 was yet another incarnation of this important route at a different point in history.
At Springfield, this St Louis-Ft Smith Military Road/Wire Road joined the Butterfield Route. This combined Butterfield Stage/Wire Road/Military Road ran from Springfield through the current Wilson's Creek National Battlefield and Pea Ridge National Military Park through Fayetteville and Fort Smith, Arkansas
It was no coincidence the Butterfield Stage route ran through those two civil war battlefields. The battles were fought at those locations precisely because this was the main thoroughfare, the mail route, and the telegraph route--literally the "wire" road.
At both Wilson's Creek and Pea Ridge are preserved wagon tracks of the old Butterfield Road, along with mail stations and other artifacts.
The Military Road from Jefferson Barracks to Fort Smith, Arkansas, had been and ancient native American trail, and later and emigrant and trading route. Partly for that reason, the Butterfield/Military Road route from Springfield to Fort Smith became one of the main exodus routes used by native Americans expelled from the southeastern U.S. during the Trail of Tears.
Your ride on the Butterfield Stage Experience will bring you to all of these historic routes and places--and more.
Butterfield Markers and Monuments
In the 1910s or 1920s--perhaps to commemorate the 50th anniversary of the Butterfield Stage--the Dry Wood Threshers Association of Sheldon, Missouri, erected stone monuments at the location of every known Butterfield Stage Station in Missouri.
In the 1950s, to commemorate the centennial of the Butterfield Stage, the Missouri State Historical Society erected metal signs at towns along the Butterfield route in Missouri. Most signs direct you to the actual Butterfield Stage Station location (and corresponding stone monument) a few miles outside of town.
All of these markers and monuments--that we know about!--are marked on the Butterfield Stage Experience route maps on RideWithGPS.
Don't miss them!
And don't forget to post your photo--with the bike and the stone or marker--with hashtag #ButterfieldHistory.
Butterfield History Resources
Explore the historic Points of Interest on the Butterfield Stage Experience RideWithGPS routes
To view points of Interest on Butterfield Stage Experience Routes:
Select a single route (click one of the route names at the bottom of the live map below)

Zoom into one of the cities or areas of the route

You will see many types of icons. Of most interest for historical markers and locations are:

"Monument" icons: These will show Butterfield Stone Monuments, Butterfield Historic Markers, or (rarely) other historic markers

"Photo" icons: These indicate points of interest worth visiting or viewing. Often these are historic Butterfield buildings, stage stops, local history museums, historic cemeteries, or other related locations

"Info" icons ("i"): These show information about a particular place, which sometimes includes historic information

You will also see many other helpful icons, including information needed by people traveling by bicycle, including lodging, camping, restaurants, shopping, and more.
All route maps, including the various route options, loops, and connections maps include information about local history, points of interest, historical markers, and the like.
But of course the Butterfield Stage Historic Monuments, Markers, and Historic Sites are very much concentrated on the primary Butterfield Stage Experience route shown below: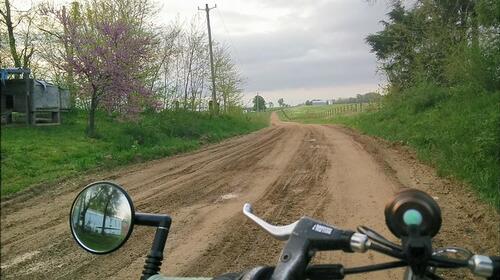 Creating a world-class bicycle, pedestrian, and trails transportation network across Missouri is one of the four major goals of MoBikeFed's Vision for Bicycling and Walking in Missouri. Creating, promoting, and encouraging the implementation of the statewide trails vision along with major trails and trail connections like the Katy Trail, Rock Island Trail, and Butterfield Stage Experience are a vitally important parts of that plan.
Your ongoing membership and generous financial support help turn our Vision into reality!
Photo credits: