Missouri Bicycle & Touring Routes
Missouri Bicycle & Touring Routes (including GPS downloads)
This page has cross-state, touring, regional, connector, and local bicycle routes for all types of cycling--day rides, weekend or multi-day touring, on-road, gravel, mountain bike, and bikepacking--created by MoBikeFed and our partners across Missouri.
Related pages
This is one of a series of pages on MoBikeFed.org designed to help find routes, roads, trails, and places to bicycle in Missouri:
About the Missouri Bicycle & Touring Routes & GPS downloads
All routes can be downloaded immediately as GPS files, or simply used as reference maps for planning your own routes and trips.
Routes are typically great rides that also follow historic, cultural, and scenic corridors in Missouri. They include historical, cultural, and practical information about the places you visit, such points of interest, historical background on places & communities, historical maps and photos, and lodging, food, and camping along the route.
We currently have Released Routes, Beta Quality routes, and Draft Quality routes. If you would like to help turn out Beta and Draft Quality routes into released routes, please contact us.
Bicycle & Touring Routes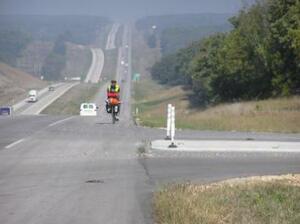 Links will take you directly to the route pages with more info & route links, or in some cases directly to the RideWithGPS page for that route.
Released routes
These routes are ready to ride:

Beta Quality Routes
These routes are significantly developed and researched but not polished or ground-checked to the same level as released routes. Some segments may be more polished while others are more in draft state (check each segment for details)

Draft Quality Routes
These routes have had a degree of development and research, but as a whole need more research and ground-truthing before release:

Other route candidates
This are Missouri routes with excellent bicycle touring or bikepacking potential, but which need support from communities or cyclists along the routes to further develop them:

Missouri Trail of Tears Bicycle Route - this route could follow the National Park Service Trail of Tears National Historic Trail Routes through Missouri and adjoining states, if tribes and organizations with an interest in the historic trail and communities along the routes have an interest in doing so.

Boonslick Trail - this route could follow the historic Boonslick Trail from the St Louis area to Boonslick State Historic Site. The trail was used for centuries as a native American trail, then followed and developed into a wagon road by sons of Daniel Boone, who discovered salt springs at Boonslick. This could a fascinating historic route--and directly connect to the Santa Fe Trail route--if communities along the route have an interest.

Information about the Routes & How to Use Them
What are the routes--what are they like--who are they for--who creates and maintains them
The Missouri Bicycle & Pedestrian Federation works with partners all across Missouri to collect and create some of the best bicycle routes in the state.
The routes are available for free download and can be used with a variety of mobile phone software (including free software options) and GPS bicycle devices.
The routes can be used for:
Finding some of the best local rides of any length, particularly if you are unfamiliar with bicycle routes in a certain area

Making major statewide bicycle route connections, such as from various cities, airports, train stations, etc, to the Katy Trail and Rock Island Trail

Connecting to major existing bicycle touring routes in and near Missouri, such as U.S. Bicycle Route 76, 66, the American Discovery Trail, the Mississippi River Trail, local and regional trails systems around Missouri, the Great American Rail-Trail

Planning bicycle touring routes in, around, and through Missouri--whether paved, gravel, trails, bikepacking, or some combination of all, and whether short, medium, or long
Routes are designed to be similar in many ways to Adventure Cycling Association routes--including information about historical, cultural, and scenic points of interest along the way and information needed by touring cyclists, such as where food, lodging, and camping is available.
Many of the routes follow historical trails, routes, rivers, or other routes that are historically, culturally, or scenically important and interesting.