MoBikeFed's "Driver's Guide to Bicycling" updated - printable summary of state bicycle laws
One of the most popular pages on the MoBikeFed web site is our summary of Missouri bicycle and pedestrian law.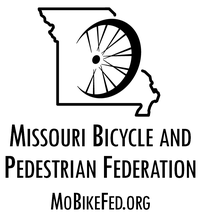 The page includes several printable/freely shareable summaries of Missouri bicycle and pedestrian law appropriate for drivers, cyclists, pedestrian, law enforcement officials, clubs, groups, and so on.
We have just updated one of the most important summaries, the Bicycle Tips - Bicycle Law, a one-sheet summary of Missouri laws and tips for bicycling, both on-road and off-road
Download the Bicycle Tips - Bicycle Law here:
Excerpts from Bicycle Tips - Bicycle Law
Welcome to Bicycling!
Riding a bike is a fun, healthy activity that is enjoyed by many people. Learning the traffic and trail rules will allow riding to be as safe as possible. Experienced bicyclists who follow the rules are up to 20 times safer than novice bicyclists.
Missouri Bicycle Requirements
In Missouri, bicycles and motorized bicycles may ride on any street except travel lanes of interstate highways or where prevented by a local law. (Motorized bicycles must be licensed as mopeds.)
Bicyclists have the same rules, rights and responsibilities as other drivers. For example, bicyclists must stop at stop signs and drive on the right-hand side of the road. Anyone riding slower than the speed limit shall stay as far to the right-hand side as safe.
Anyone riding between sunset and sunrise must have a headlight on the front, a red reflector or tail light on the back, reflective material or a light on the moving parts of the bicyclist or bike and reflective material or lights on the sides of the bike.
All bikes must have brakes that work.
Bicycles may be ridden on sidewalks except in busy downtown areas and where prevented by local law. Pedestrians have the right of way and bicyclists must alert walkers by voice, horn or bell. Motorized bicycles may not be ridden on sidewalks.
No bicyclist may hold onto another vehicle.
Use turn and stop hand signals (see Sections 304.019 and 307.192, RSMo) at all times when operating a bicycle or motorized bicycle on Missouri streets and highways.
Traffic signals often fail to detect bicyclists--meaning that the signal won't cycle and give you the green. Bicyclists can sometimes proceed through a red light, but only under very specific conditions: 1) You come to a complete stop. 2) The traffic signal shows a red light for an unreasonable amount of time and appears to be malfunctioning. 3) You wait for a safe break in cross traffic--both vehicles and pedestrians.
On-Road Safety Suggestions
Wear safety gear. Always wear a helmet. Wearing sunglasses, gloves and bike shorts are a good idea, too.
Obey the law. Not stopping at a stop sign is dangerous and makes motorists feel that a bicyclist isn't being fair.
People in cars have someplace to go … don't hold them up without a good reason.
Night-time reduces visibility. Night-time bicyclists should have bright lights and wear reflective clothing.
Ride single file in traffic. State law allows bicyclists to ride side-by-side, but only when they are not impeding (blocking or slowing down) other vehicles. Otherwise, you must ride single file to the right as far as safe.
Off-Road Trail Rules
Plan ahead. Know your equipment, your ability and where you are riding. Always wear a helmet and appropriate safety gear.
Ride on open trails only. Don't trespass on private land (including Federal and state wilderness areas).
Leave no trace. Do not ride on wet and muddy trails. Stay on existing trails (don't create new ones).
Control your bicycle. Watch where you are going and obey all bicycle speed limits.
Always yield the trail. Call a friendly greeting or use a bell, but don't startle other users. Stop if necessary to allow others to pass.
Never scare animals. Be quiet and follow directions from equestrians you see. Never chase animals. Leave gates as you found them or as signs say.
Pre-ride check. Inflate tires, check brakes, carry a repair kit and make sure your tire pump works.
Carry tools. Includeatire repair kit, spare inner tube or inner tube repair kit, bike multi-tool, chain tool, tire pump and lubrication oil.
For more information, see the Revised Statutes of Missouri Sections 300.347, 300.350, 304.019, 304.285, 307.183, 307.185, 307.188, 307.190, 307l191, 307.192, 307.193, 307.195. See also city and county traffic ordinances.
Tags: