Bike St. Louis moves forward: Road diet & bike lanes make Morgan Ford Rd more walk & bike friendly
Morgan Ford Road in St Louis has recently received a bike and walk friendly update as part of Phase III of the Bike St. Louis project, funded by Great Rivers Greenway in cooperation with the cities of St Louis, Clayton, Maplewood, and Kirkwood.
KSDK News covered the project:
Once the striping is completed, drivers and cyclists will have clear, designated lanes to help safely share the road. The hope is to decrease the risk of crashes and serious injuries for pedestrians.

"While the changes to the roadway will take some getting used to, road diets offer benefits for everyone - people riding bikes, people driving cars and people on foot," says Elizabeth Simons, Great Rivers Greenway Community Program Manager. "There is clear evidence from cities across the nation that show road diets reduce rear–end collisions and sideswipe crashes by slowing vehicle speeds by just three to five miles per hour."

The relatively small amount of traffic on this section of road made it a great candidate for the diet. The street was chosen through feedback from St. Louis City residents.
Once the changes on Morgan Ford are finished, Bike St. Louis Phase III will have completed 100 miles of street routes for bikes, with signage to guide and connect people to destinations across the City of St. Louis.
"With fewer than 15,000 vehicles per day on this section of Morgan Ford, the new road configuration will easily accommodate this traffic volume," says Deanna Venker, City of St. Louis Traffic Commissioner. "The City of St. Louis is also improving the signal time on Morgan Ford Road to reduce traffic backup from intersections accommodated by the road diet."
Projects of this sort are becoming more and more common around Missouri, as communities realize the benefits of making their communities friendlier for walking and biking.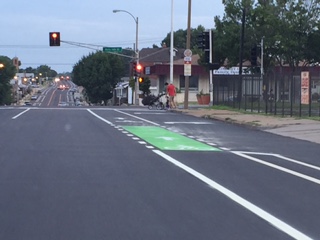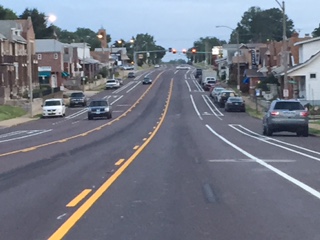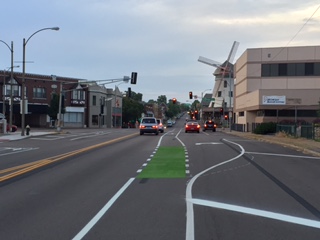 Building a world-class network for bicycling and walking in Missouri is one of the four major objectives of MoBikeFed's Vision for Bicycling and Walking in Missouri.
Sharing successes statewide and encouraging projects like Bike St. Louis and the Morgan Ford road diet--which help encourage more walking and cycling and improve safety for all road users, including drivers, pedestrians, and bicyclists, is an important part of our work.
Your ongoing membership and generous financial support help turn out statewide Vision into reality!
Photo credits: Paul Wojciechowski, Alta Planning & Design
Tags: