Race Across America harassed by St. Charles County bike ride permit requirement
The annual Race Across America (RAAM) is passing through Missouri againt his year--but this time with a twist.
The annual endurance ride, which starts June 12th in Oceanside, California, will see racers trickling through Missouri over a period of several days in mid June--as they have every year for the past thirty years.
This year, however, RAAM officials got a nasty surprise from the St. Charles County Sheriff's Department. The main outcome of an unsuccessful effort by several St. Charles County Commissioners to ban bicycles on rural St. Charles County roads in 2010 was a requirement for permits for organized bicycle rides and events in the county.
This has made life difficult for organized rides in St. Charles County, as the permitting process is more difficult than it should be.
But for RAAM officials, the permitting process borders on the ridiculous--as they discovered this year when the St. Charles County Sheriff's Department informed them that they must receive a bicycle event permit before RAAM riders start to come through the county.
Imagine if RAAM had to obtain a special permit for each county it passes through along its 3000 mile route--hundreds of different counties and jurisdictions. The race would be an absolute impossibility.
Making it doubly hard is the fact the that Sheriff's Department doesn't post the permit or the requirements or regulations on its web site. Probably a personal visit to the county offices is the best way to handle obtaining the permit--but that is just a little bit hard for a race of 3000 miles that covers the entire U.S.
Fortunately for RAAM--but unfortunately for Missouri's reputation--St. Charles County is the only county in the U.S. requiring a permit of RAAM officials.
The St. Charles County requirements almost allow RAAM to escape the permit requirement, which is only for rides with 25 or more riders on the roads within a 2 hour window. By the time RAAM riders reach Missouri, they are so spread out along the 3000-mile course there won't be more than 2 or 3 in any given area.
But the St. Charles County permit is required for all events that include a sag or follow vehicle--even if the event has only one rider involved. Since every RAAM rider has a follow vehicle, the St. Charles County permit regulations kick in.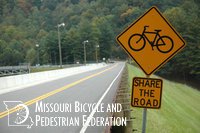 We only hope that RAAM won't take this as a signal to move the race out of Missouri or out of St. Charles County. RAAM officials estimate that each time station, like Revolution Cycles in Washington, Missouri, brings an estimated $20,000 annual economic impact to the local economy as spectators and visitors stop in at the station to watch and meet the riders and support teams. Missouri has five time stations, Illinois two, and Kansas three.
Why would we want to chase out of our state a fun and exciting event that has essentially no effect on traffic in the state, uses our state's road just as hundreds of thousands of bicycling Missourians do every week, and brings internationally known racers along with a significant economic impact every year?