MoBikeFed seeks Queen City Century ride organizer for 2017 - $1000 stipend
Do you like to organize things? Would you like to become a vital part of a bicycle ride that brings people together from all around Missouri? Would you like to work with a great group of volunteers and staff from around the state? Would you like to help MoBikeFed carry out its mission and have a lot of fun in the process?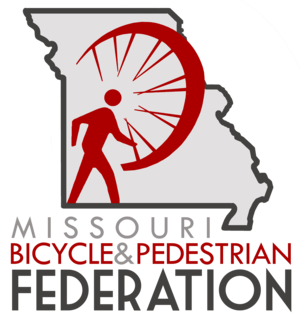 And would you like to make $1000 while doing all that?

Then we need you--to become event organizer for the Queen City Century in Springfield.

We are offering a $1000 stipend to the organizer, plus travel and other expenses and a potential bonus.

The Queen City Century has a long history in the region. SpringBike and the Missouri Bicycle & Pedestrian Federation have been in discussions about turning it into an event that supports the Missouri Bicycle & Pedestrian Federation's mission of statewide bicycle advocacy while also building an event that is good for the Springfield community.
With the right leadership, the ride has the potential to grow into a significant regional bicycle ride and a very significant contributor to the statewide advocacy work of the Missouri Bicycle & Pedestrian Federation.

Your job:
Lead regular teleconferences between now & ride day
Take the lead in organizing the ride and working to accomplish these tasks (or supervising/coordinating with other volunteers & staff to accomplish them):

Ride marketing and promotion
Ride sponsorships
Finalizing SAG Stops, routes, maps, cue sheets, and other important ride details
Locating & training volunteers
Coordinating with local groups and organizations

Talk with team members about their jobs and remind them of deadlines
Help organize route marking and/or help mark the route in the couple of days before ride day
Be in Springfield the afternoon before the event and the day of the event to help organize and run the event
Other important points:
It may be an advantage if you are located in the Springfield area where the ride is, but in our experience, you can do this from anywhere within the state of Missouri as long as you are willing to travel Springfield a few times prior to the ride and for ride weekend. Our previous ride organizers have come from all parts of the state and organized rides in all parts of the state
We estimate that you will put about 100 hours into this job between now and ride day
We have ride organization manuals and notes from previous similar events
The ride generally takes place the 3rd Saturday of June (June 17th, 2017).
If you would like to help organize the Queen City Century 2016, or if you have questions, please contact Missouri Bicycle & Pedestrian Federation Executive Director Brent Hugh: director@mobikefed.org or 816-695-6736.