Strong local support for walking and bicycling on the new Champ Clark Mississippi River Bridge at Louisiana MO: What are the options, with photos
For about the past year, the Missouri Bicycle & Pedestrian Federation has been talking with MoDOT and local citizens in the Louisiana, Missouri area about including bicycle and pedestrian accommodation on the new Champ Clark/Hwy 54 Bridge across the Mississippi River.
We don't want to build a major new river bridge in Missouri and leave out needed accommodations for people to walk and bicycle across the bridge safely.
And, as we have found in communities across Missouri, local support for safe walking and bicycling access on the new bridge is strong.
Are pedestrian and bicycle facilities a good investment?
Cost is the issue that comes up over and over in talking about pedestrian and bicycle accommodations on bridges like this.
Of course, there is a cost to including accommodations for bicycling and walking. But these major river bridges are very, very expensive even when bicycle and pedestrian accommodations are excluded. The budget for the Champ Clark Bridge is a cool $60 million. The budget for the Washington Missouri River bridge is $63 million.
So it is appropriate to spend some proportion of that budget on safe and appropriate facilities for people to walk and bicycle on the bridge.
The reasons for that are simple:
People are going to walk and bicycle across the bridge whether or not we provide for their safety. It only makes sense to spend the few extra dollars it takes to create a good, safe facility--rather than simply making people walk on the shoulder or in the gutter.

Bicycle and pedestrian facilities create a positive rate of return on investment. They are good for the economy and health of the local community, and they are also good for tourism--especially in a tourism-centered river town like Louisiana. (Source, source)

If we get 5-10 years down the road and decide that omitting good, safe bicycle and pedestrian facilities was a mistake, retrofitting facilities to an existing bridge will cost an order of magnitude more than simply designing it the right way in the first place.
What options are available - and which is the best investment?
With all that in mind, what options are available for creating reasonable, safe pedestrian and bicycle access on a major river bridge in a rural community like Louisiana?
And what is the benefit, what is the cost? Are some options available at very reasonable cost that still have a very high benefit?
Below are examples from bridges across Missouri and the U.S., from the simplest and most basic facility to more complex and expensive.
1. Basic Walkway
This is an example of a basic sidewalk on a bridge, with no barrier separation. This could be similar to the Champ Clark, except the Champ Clark would have one travel lane, a shoulder (a bit narrower than the 2nd travel lane shown) and then the sidewalk.
2. Basic Walkway with Low Barrier
This is an example of what a relatively minimal walkway or path with a low barrier could look like. This bridge carries many times the traffic that Champ Clark will, yet the walkway is still well used and they have had no problems with safety, thanks to the barrier. Nowadays they are more likely to do a low barrier with concrete rather than steel, but the concept is the same.
3. Basic Walkway with Bike Lane/Shoulder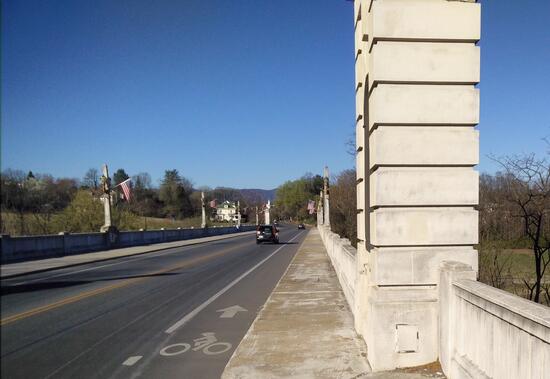 This is an example showing minimal sidewalk, bike lane, and travel lane. This configuration fits into a footprint narrower than currently planned for Champ Clark.
4. 6-foot Separated Path with Shoulder (Boonville, MO)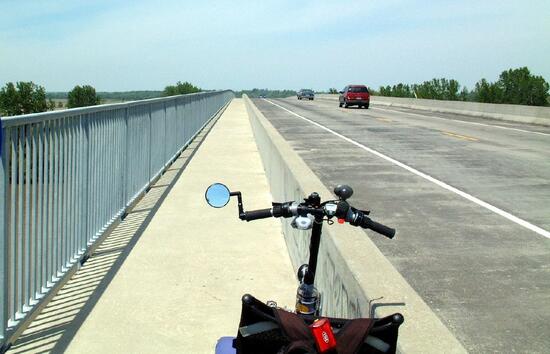 This is a six foot separated path with high barrier plus 8-foot shoulders and two 12-foot travel lanes. This configuration is about 47 feet wide whereas the currently planned Champ Clark is 44 feet in width.
5. 8-foot Separated Path with Shoulder (Hermann, MO)

This is an eight foot separate path with high barrier and decorative railing. The bridge includes two 10-foot shoulders and two 12-foot travel lanes. Length is 2247 ft and cost $33 million (2007) Source: http://www.modot.org/northeast/projects/projectinformation.htm
6A. 10-foot Separated Path with Shoulder (Chesterfield, MO)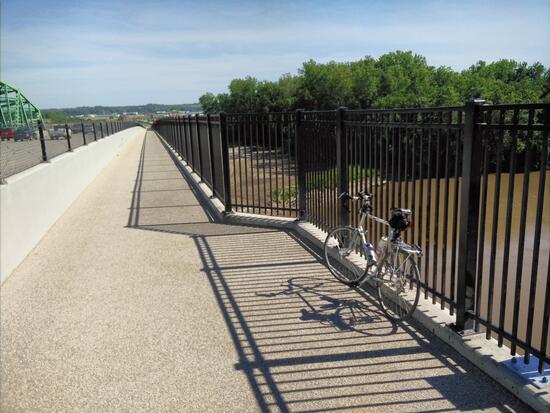 This is a 10-foot separated bike/ped path on the I-64/US40 Daniel Boone Bridge at Chesterfield. Cost of this bridge--four lanes, two wide shoulders, and bike/ped path--was $125 million. http://www.modot.org/stlouis/major_projects/newdanielboonebridge.htm
6B. 10-foot Separated Path with Shoulder (Washington, MO)
This is a 10-foot separated bike/ped path on the Hwy 47 Missouri River Bridge at Washington, Missouri. Construction on the Washington Bridge is currently underway--about 20% complete.
Current Champ Clark Bridge at Louisiana, MO - just 20 feet wide
Working to create a world-class bicycle and pedestrian transportation system across Missouri is one of the top goals of MoBikeFed's Vision for Bicycling and Walking in Missouri. Working for good, safe access to all major river bridges for people who walk and bicycle is one of our top priorities in reaching that goal.
Your ongoing membership and generous financial support help turn our Vision into reality!
Photo credits: