Report Card: Media coverage of "Missouri Gets a D"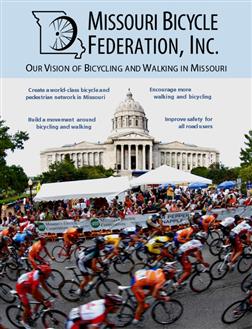 A sampling of recent news stories about MoBikeFed's
Report Card on Walking and Bicycling in Missouri:
KOMU TV, Columbia:
[O]ne state biking group says Missouri doesn't make the grade. A new report from the Missouri Bicycle Federation gives the state a "D" for being walker and bicycle friendly.

Fred Schmidt rides his bike almost everyday, which means he only spent eighty-five dollars on gas last year.

"It's really funny that America has gotten to the point where we actually need a little bit of coaching to do what's natural, which is to walk or ride your bicycle to use active transportation," said Schmidt of the Missouri Bicycle Federation.
Fox4 TV, Kansas city:
The Show-Me State nearly flunks out on its bike and trail environment, according to the Missouri Bicycle Federation. The group gave the state a "D" on its report card.
KC's Pitch Weekly:
Earlier this week, the Missouri Bicycle Federation released its first-annual Bicycling and Walking Report Card — and the results ain't pretty. Although the cycling ranks are swelling and the industry brings in more than $1.2 billion to the state's economy every year, Missouri is lagging far behind other states when it comes to safe streets and the number of cyclists traversing them. The overall grade for the Show-Me State: a decidedly embarrassing D.