Bike Month Volunteer Opportunity: Help MoBikeFed and the Junior League of Kansas City give away hundreds of bicycles to kids who really need them
Looking for a great Bike Month volunteer opportunity? The Missouri Bicycle & Pedestrian Federation is working with the Junior League of Kansas City and and Urban Neighborhood Initiative of Kansas City to give away hundreds of bikes to area kids who really need them--and will really use them.
Can you help out by volunteering? Click here to volunteer.
How it works
The Junior League works with its partners to collect and repair about 100-200 used bikes. As part of their Healthy Living KC Fair, produced in partnership with the Urban Neighborhood Initiative, they give away the bikes to neighborhood kids who really need them--and really use them.
Our job is to fit kids with helmets, match them to the right bike, adjust the bike to fit, and get them going on their new bike. We also send parents and kids on their way with same safe riding tips.
It takes a lot of volunteer power to give away all of those bicycles! If you can help, please volunteer--we really need the help, and it makes a big difference to many kids and many families.
Volunteer thank-you package
We're putting together a thank-you package for volunteers, including:
- Free ride registration at a MoBikeFed ride in 2019
- Tshirt
Healthy Living KC Fair & Kids Bike Giveaway details
Healthy Living KC Fair details:
Healthy Living KC Fair - Kids' Bicycle Giveaway
Time: 12noon-3:00pm, Saturday, May 18th, 2019 (volunteers needed for setup and cleanup about 1 hour before and 1 hour after event hours)
Location: Kansas City Neighborhood Academy, 1619 E 24th Terrace, Kansas City, MO
The Kids' Bike Giveaway is just one part of the Healthy Living KC Fair, which includes health screenings, informational displays from a number of health agencies, and fun, healthy activities for kids and families.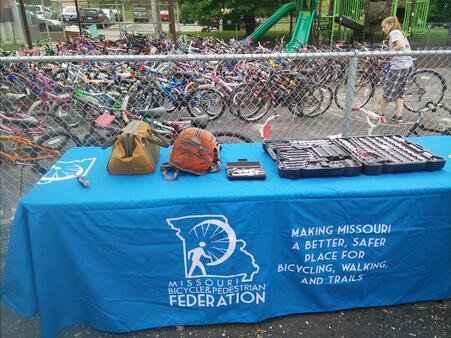 Encouraging people in Missouri to bicycle and walk more often is one of the four major goals in MoBikeFed's Vision for Bicycling and Walking in Missouri. Partnering with other organizations to help kids have a bike to ride is one simple, concrete way we can help reach that goal.
Volunteering to help at events like this is one way you can help us reach this goal--and your ongoing membership and generous financial support is another way. Thank you!