Kansas City Riverfront Heritage Trail makes major connections--map of progress 2007-2015
Kansas City's Riverfront Heritage Trail recently announced a new trail map showing recent additions, upgrades, and future plans for the trail.
The trail is designed to connect Kansas City, MO to Kansas City, KS and North Kansas City. The trail, which connects some of the highest density areas in the core of the Kansas City metropolitan area, creates connections over several major barriers in the area: Two major rivers, highway and freeway systems, and major rail corridors.
Darby Trotter of Kansas City Riverfront Trails, Inc., has been working on the Riverfront Heritage Trail project since 1999. An animation of trail connections and progress as shown on the trail map is below: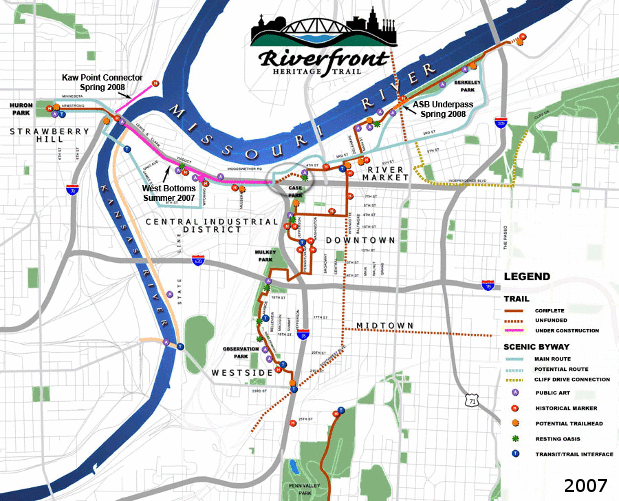 Working to create a seamless, interconnected system of trails an on-road connections for bicycling and walking is one of the major objectives of MoBikeFed's Vision for Bicycling and Walking in Missouri. We work to support numerous local initiatives like the Riverfront Heritage Trail all across Missouri, and we share the good work of local groups across the state to inspire others.
Your ongoing membership and generous financial support help turn our Vision into reality!