The Butterfield Stage Experience - Cross-state Route Loops and Options
The Butterfield Stage Experience - Cross-state Loops, Options, and Connections
The new Butterfield Stage Experience bicycle route is a historic experience along back country roads that leaves you with smiles for miles across Missouri. A mostly gravel/bikepacking route across some of the most beautiful, peaceful, and historic places in rural Missouri, you'll re-experience an 1858 Butterfield Stage trip across Missouri.
Other pages about the Butterfield Stage Experience route and possibilities:
Elsewhere online:
The Butterfield Stage Experience - Cross-state Loops, Options, and Connections
Many of the local and regional routes outlined on the local/regional route options and loops page can be combined with Missouri's existing major trails for even longer epic adventures that are all or mostly on dedicated trails or inviting very low-traffic rural gravel routes:
Ride the Katy from the St Louis area, complete any of the Butterfield + Connector loops, return. Loop trips over 500 miles in length are possible with relatively few out-and-back segments included.

Ride the Rock Island from the Kansas City area, complete Butterfield/Rock Island loops including Jefferson City and Bolivar/Springfield area, return. Loop trips over 500 miles possible.

Ride the Frisco Highline from Springfield, loop the Butterfield to Jefferson City and return via Katy to Windsor + Connectors + Butterfield. Loop trips over 400 miles possible.
Many other loops and connecting routes are possible, particularly when combining these regional routes with the Katy and Rock Island Trails and gravel routes shown for the area at GravelMaps.com
Find out about smaller local & regional route and loop possibilities here.
Explore major cross-state loop tours, options, and connections on the Butterfield Stage Experience
Explore major cross-state loop tours, options, and connections on the RideWithGPS Butterfield Stage OPTIONS AND CONNECTIONS page or using the live map below: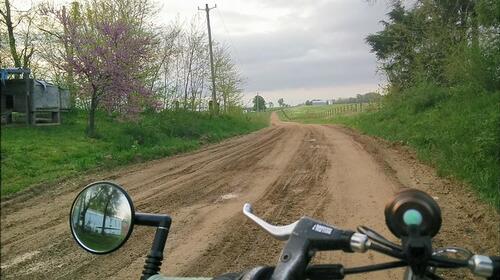 Creating a world-class bicycle, pedestrian, and trails transportation network across Missouri is one of the four major goals of MoBikeFed's Vision for Bicycling and Walking in Missouri. Creating, promoting, and encouraging the implementation of the statewide trails vision along with major trails and trail connections like the Katy Trail, Rock Island Trail, and Butterfield Stage Experience are a vitally important parts of that plan.
Your ongoing membership and generous financial support help turn our Vision into reality!