Announcing the Butterfield Stage Experience - A New 250-mile Gravel Bicycle Route connecting the Katy, Rock Island, and Frisco Highline Trails
The Butterfield Stage Experience is a new mostly gravel bicycle touring route consisting of county gravel roads and multi-use trails using/paralleling the historic Butterfield Stage Route in Missouri.
Currently over 250 miles in length--and more to come!--the route is low-traffic trail-like experience that leads you straight to the heart of rural Missouri and visits many of the historic Butterfield Stage sites and monuments across the state. The route is accessible to most who enjoy natural-surface routes like the Katy Trail and Rock Island Trail--and are ready to take the next step towards adventure.
The route is mostly on well-maintained county gravel roads and multi-use trails, with a few mountain bike trail routes and occasional paved sections as needed for connectivity.
Great for day trips, weekend get-aways, or a few days of bike camping or bikepacking--you'll re-experience an 1858 Butterfield Stage trip across Missouri.
Connect to the Katy, Rock Island, and Frisco Highline Trails.
Go explore Missouri in a whole new way.
Butterfield Trail Experience maps, GPS tracks, guides, history, resources
Working with a multitude of partners across Missouri, today we are releasing a multitude of maps, guides, GPS tracks, history resources, and other helpful materials to help you enjoy the Butterfield Trail Experience:
We expect the Butterfield Stage Experience to become a major bicycle touring route in Missouri, joinin the likes of the Katy Trail, the TransAmerica Trail (US Bicycle Route 76), and Bicycle Route 66 (US Bicycle Route 66).
The Butterfield Stage Experience - A close encounter with history, at the speed of bicycle
In 1858, John Butterfield personally carried the first bag of mail, boarding the Pacific Railroad in St. Louis. Butterfield's journey took him through Jefferson City, California, Tipton, Syracuse, Florence, Cole Camp, Warsaw, Bolivar, and Springfield--a journey you can live again by bicycling the Butterfield Stage Experience route in Missouri.
Your ride on the Butterfield Stage Experience will bring you to all of these historic routes and places--and more.
In the 1920s the Dry Wood Threshers Association of Sheldon, Missouri, erected stone monuments at the location of every known Butterfield Stage Station in Missouri.
In the 1950s, to commemorate the centennial of the Butterfield Stage, the Missouri State Historical Society erected metal signs at towns along the Butterfield route in Missouri. Most signs direct you to the actual Butterfield Stage Station location (and corresponding stone monument) a few miles outside of town.
Tracking down those markers and monuments--as well as dozens more historically significant buildings and places across Missouri--is a big part of what makes the Butterfield Stage Experience a real adventure--and a real experience.
All of these markers and monuments--that we know about!--are marked as Points of Interest on the Butterfield Stage Experience route maps on RideWithGPS.
That means you can track them down, one by one, and relive history.
Make the Connection - to hundreds of miles of low-stress, low traffic, beautiful, historic bicycle routes across the heart of Missouri
In April, we compiled a list of 369 miles of connected trails all across Missouri--including numerous side-trips and side trails connected to that Katy/Rock Island Trail system across Missouri.
Now with the addition of the Butterfield Stage Experience, Missouri is adding more than 700 additional miles of highly interconnected bicycle routes, most of them on appealing, low-traffic county gravel roads, and mostly centered around the Katy/Rock Island/Frisco Highline nexus of Jefferson City-Sedalia-Windsor-Clinton-Warsaw-Bolivar.
Want to ride from Jefferson City to Clinton on the Katy Trail and ride back a different way? You can do it.

Want to ride from Bolivar to Sedalia? You can.

How about a pleasant loop from Boonville to Tipton to Versailles to Warsaw to Clinton, Sedalia, and back to Boonville. Yes, yes, yes, yes, yes, yes, and yes. And did we mention that it is stunningly beautiful, low-traffic, and a solid half of it follows either the pioneer-era Boonville Road or the early 1800s-era Military/Wire Road that went from Versailles to Fayetteville, AR?

Want to ride from Lee's Summit to Springfield? You can.

Want to ride from St Charles to Springfield? You can do that, too.

Want to ride Jefferson City to Springfield and back a different way? Yes, easy.

Kansas City to Lake of the Ozarks? Yes.

Return a different way via Versailles, Tipton, California, Jefferson City, and Boonville? Why not?

Want to spend a couple of weeks doing a grand tour of Missouri while barely seeing an automobile? You can do it.
Local routes and loops - mega statewide loops - Bike+Amtrak trips - Butterfield+U.S. Bicycle Route trips - and even a Butterfield+Ozark Trail mega-adventure are all possible now.
Spend a day, spend a weekend, spend a week, spend a month--all possible.
And by the way, you added it right: This makes more than 1000 miles of highly interconnected, low-stress, low traffic bicycle routes across Missouri.
Get out and give them a try!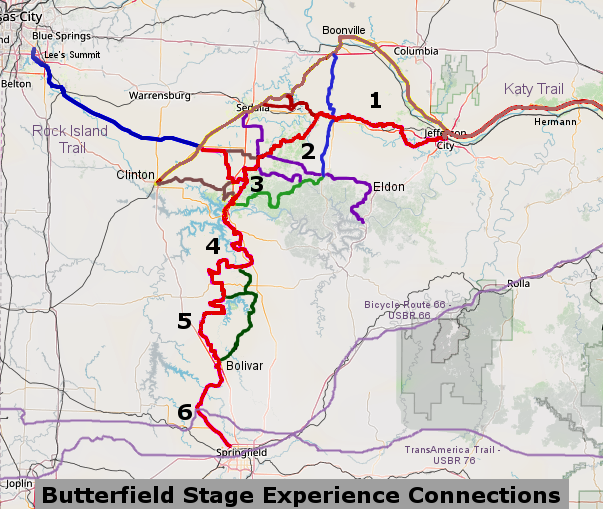 See MoBikeFed News articles related to the development of USBR 51 and the Butterfield Stage Experience cross-state gravel route.
Creating a world-class bicycle, pedestrian, and trails transportation network across Missouri is one of the four major goals of MoBikeFed's Vision for Bicycling and Walking in Missouri. Creating, promoting, and encouraging the implementation of the statewide trails vision along with major trails and trail connections like the Katy Trail, Rock Island Trail, and Butterfield Stage Experience are a vitally important parts of that plan.
Your ongoing membership and generous financial support help turn our Vision into reality!