The Butterfield Stage Experience - Butterfield + Ozark Trail Mega-Adventure Loop
The Butterfield Stage Experience - Butterfield + Ozark Trail Mega-Adventure Loop
The new Butterfield Stage Experience bicycle route is a historic experience along back country roads that leaves you with smiles for miles across Missouri. A mostly gravel/bikepacking route across some of the most beautiful, peaceful, and historic places in rural Missouri, you'll re-experience an 1858 Butterfield Stage trip across Missouri.
Other pages about the Butterfield Stage Experience route and possibilities:
Elsewhere online:
The Butterfield Stage Experience - Butterfield + Ozark Trail Mega-Adventure Loop
If you want to turn up your adventure level to 11, how about combining the Butterfield Stage Experience with the Ozark Trail?
Lengthy sections of the Ozark Trail are mountain bikeable singletrack. The Ozark Trail intersects with the TransAmerica route/US Bicycle Route 76 near Owl's Bend (using a few gravel roads to make the final connection, as shown here) and Bicycle Route 66 near Leasburg. Great Rivers connects Route 66 and the Katy Trail at Washington. And Great Rivers Greenway trails and regional bike routes connect Bicycle Route 66 and the Katy Trail in the St. Louis area.
Put that all together for some pretty awesome adventure cycling tours.
Here is a map of the mountain-bikable portions of the Ozark Trail (purple), combined with gravel road connecting pieces (blue):
How about these epic bicycle touring/bikepacking loops, combining gravel, hard surface roads, singletrack mountain bike trails, and rail-trails:
Butterfield Stage Jefferson City to Walnut Grove; TransAm/USBR 76 Walnut Grove to Owl's Bend; Gravel connectors + Ozark Trail to Leasburg; USBR 66 to Great Rivers at Sullivan; Great Rivers to Katy Trail near Washington; Katy Trail back to Jefferson City.

Lee's Summit to Windsor via Rock Island Trail; Connector to Warsaw; Butterfield Stage to Springfield; Bicycle Route 66 Springfield to Marshfield; TransAm/USBR 76 Marshfield to Owl's Bend; Gravel connectors + Ozark Trail to Leasburg; Bicycle Route 66 Leasburg to St. Louis area; Katy Trail St. Louis area to Windsor; Rock Island Trail return to Lee's Summit.

Great Rivers Cape Girardeau to Farmington; TransAm/USBR 76 Farmington to Owl's Bend; Gravel connectors + Ozark Trail to Leasburg; Bicycle Route 66 to Springfield; Butterfield Stage + Connectors to Windsor; Katy Trail to Washington; Great Rivers back to Cape Girardeau.
Many variations on these major loops are possible, starting from many points around Missouri. The advantage for those preferring quiet, off-road routes is that three major legs of the loop--the Butterfield Stage, the Katy/Rock Island Trail, and the Ozark Trail--are completely or nearly devoid of traffic.
When you combine the Butterfield, the Katy, and the Rock Island with Adventure Cycling Association and U.S. Bicycle Routes in Missouri, you're all set for some mega-adventures.
First person to actually complete a full loop involving the full Butterfield Stage Experience and the Ozark Trail gets a free MoBikeFed jersey and swag, write-up on MoBikeFed web site and social media, and major off-road cred with every cyclist in the world . . .
Explore the Ozark Trail combined with Butterfield Stage Experience routes
Explore Ozark Trail, combined with U.S. Bicycle Routes combined with Butterfield Stage Experience routes on the RideWithGPS Butterfield Stage OPTIONS AND CONNECTIONS page or using the live map below: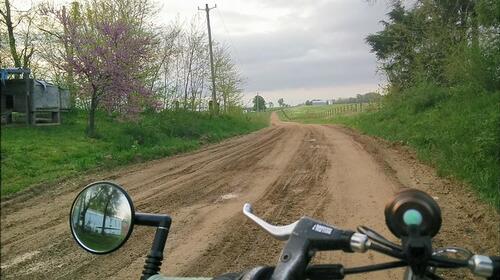 Creating a world-class bicycle, pedestrian, and trails transportation network across Missouri is one of the four major goals of MoBikeFed's Vision for Bicycling and Walking in Missouri. Creating, promoting, and encouraging the implementation of the statewide trails vision along with major trails and trail connections like the Katy Trail, Rock Island Trail, and Butterfield Stage Experience are a vitally important parts of that plan.
Your ongoing membership and generous financial support help turn our Vision into reality!
Join MoBikeFed's Advocacy Network
MoBikeFed is a statewide group of people like you, working together for better bicycling, walking, and trails in Missouri. When you join our advocacy network you receive occasional important advocacy alerts and bicycle, pedestrian, and trails news from around Missouri.

Working together we make a real difference! Join our advocacy network: